Click to Zoom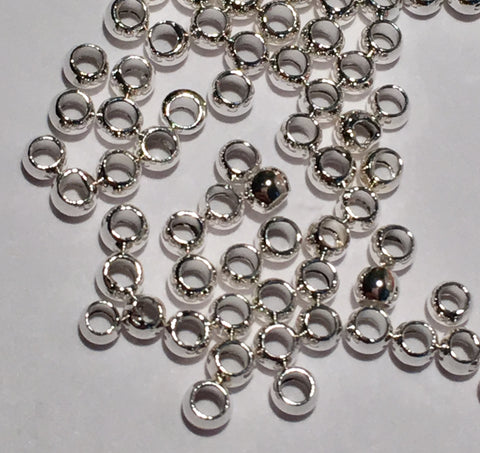 Crimp Beads
All crimps are approximately 100 pieces to a unit.
Size C1 silver plate & gold color, outside diameter 2mm, inside diameter 1.3mm, smooth crimp.
Size C2 silver plate, outside diameter 2.5mm, inside diameter 1.5mm, smooth crimp.
Our crimp beads have an ultra-smooth finish that complement any wire finish or fishing line. They protect and secure the beading material and create nicely finished ends that don't need to be hidden. These crimp beads are easy to close and can be rounded with a crimper tool. 
They can also be used as an elegant spacer bead.
| | | | | | |
| --- | --- | --- | --- | --- | --- |
| | Price | Size/Color | Quantity | Total | |
| | $ 1.50 | C1 2mm gold color, approximately 100 pieces per unit | | | 17 items available |
| | $ 1.50 | C1 2mm silver plate, approximately 100 pieces per unit | | | 44 items available |
| | $ 1.50 | C2 2.5mm gold, approximately 100 pieces per unit | | | 10 items available |
| | $ 1.50 | C2 2.5mm silver plate, approximately 100 pieces per unit | | | 24 items available |